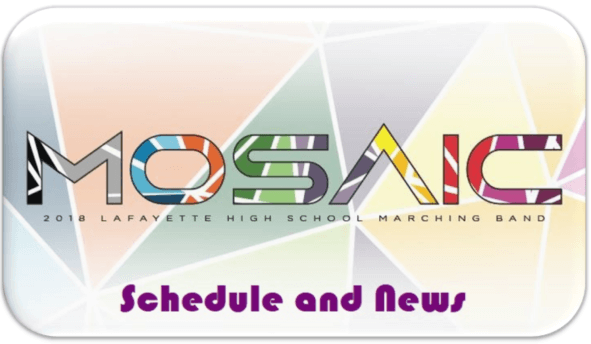 For the week of August 12th
See photos from band camp and the family performance on the web site.
GMail Users – You may need to click "View entire message" to see all content.


| | | | |
| --- | --- | --- | --- |
| MON | Full Rehearsal | 6:00pm – 9:00pm |   |
|   | Discount Card Collection | 5:30pm – 6:00pm | Senior Lot |
|   | LBA Board Meeting | 6:30pm | Library |
|   | Discount Card Collection | 8:30pm – 9:00pm | Senior Lot |
| TUES | Rehearsal | 6:00pm – 8:30pm |   |
|   | Discount Card Collection | 5:30pm – 6:00pm | Senior Lot |
|   | Bingo – Color Guard Pull-Tab Night | 6:00pm – 10:00pm | |
|   | Discount Card Collection | 8:00pm – 8:30pm | Senior Lot |
| WED | First Day of School |   |   |
|   | No Rehearsal |   |   |
| THURS | Winds and Percussion Rehearsal | 3:45pm – 6:15pm |   |
|   | Color Guard Rehearsal | 5:30pm – 8:30pm | Senior Lot |
|   | Discount Card Collection | 5:45pm – 6:15pm |   |
| FRI | Full Rehearsal | 3:45pm – 6:00pm |   |
|   | Discount Card Collection | 5:30pm – 6:00pm | Senior Lot |
|   | Band Store Open | 5:30pm – 6:30pm |   |
| SAT | |   |   |
Calendar Notes

 

First Day of School – Wednesday. August 15th

Wind Symphony Concert Photos – Saturday, August 18th – Details below

Deadline to Order Show Shirts – Sunday, August 19th.  Ordering details below

Dr. Tim Leadership Workshop – Monday, August 20th 6pm – 8:30pm – Register Online

Popcorn, Cheese, Sausage, and Chocolates Fundraiser – Thursday, August 23rd Kickoff

Full Band Picture Day – Saturday, September 1st – Details below

Lafayette Invitational Band Contest – Saturday, September 15th
Details coming soon with contest details, volunteer sign-up, and drink donations needed
Show Shirts

The deadline to order your Mosaic Show Shirts is SUNDAY, AUGUST 19.  No late orders can be accepted. Online orders only at https://www.customink.com/fundraising/mosaic-show-shirts

The Pre-Season shirt design is available for order via our TeePublic Store.

Shirts are available in Unisex T-shirt, Ladies T-shirt, Long-sleeved T-shirt, Crew Neck sweatshirt & Hoodie. The T-shirts are 100% cotton. There is a sizing chart on the website for your convenience. You can have shirts shipped DIRECTLY TO YOU!

Proceeds from the sale of "Mosaic" shirts will benefit the Lafayette Band by helping to fund meals, uniforms, transportation, and more! These shirts will NOT be available outside of this fundraiser, neither at the Band Store nor TeePublic. ORDER NOW so that you don't miss out!





Questions?  Email Jennifer Longworth at LafayetteBandStore1@gmail.com
Urgent Uniform News

 

If your marcher received new shoes on Friday, please make sure the shoes fit.  If the shoes do not fit, they can be exchanged ONLY if the shoes and box are not written on.  The shoes will need to be returned to Regina Wild Monday night before or after band practice.  Please have in mind the new size that needs to be ordered.   If the shoes are correct, PLEASE PLEASE have your marcher write his/her name in BOTH shoes immediately.  Inevitably, shoes are left behind somewhere – names in the shoes significantly increases the chance of your marcher's shoes being returned to them.
Picture Dates

 

Wind Symphony Concert Pictures – Saturday, August 18
9:00 a.m. arrive/dress
9:30 a.m. group photos
10:45 a.m. undress
11:00 a.m. finish

Students will need to bring their black shoes (with names inside), black socks, shorts, and dark t-shirt of any type to wear underneath the pants and concert jacket.  No visible jewelry should be worn, and hair should be camera ready.

Full Band Individual and Group Picture Day – Saturday, September 1st
Drum Majors & Baritones – 8:00 a.m.
Flutes – 8:30 a.m.
Clarinets – 9:15 a.m.
Mellophones – 9:45 a.m.
Trumpets – 10:00 a.m.
Alto Saxes – 10:45 a.m.
Trombones – 11:15 a.m.
Low Reeds – 11:30 a.m.
Percussion – 12:00 p.m.
Sousaphones – 12:45 p.m.
Colorguard – 1:00 p.m.

Students will need to bring their black shoes (with names inside), black socks, shorts, and black dry fit shirt to wear underneath the marching bibs and marching shirt.  No visible jewelry should be worn, and hair should be camera ready.  Please be on time!
Other Uniform News

 

SOCKS – please be looking for black socks for your marcher.  The socks need to be OVER THE CALF.  Crew socks and ankle socks are too short.  The slim fit of the black marching bibs makes them prone to riding up with movement, so long socks are important.  No color is allowed on the heel or calf of the sock.  If you get dress socks, please be sure to check the fit with the black marching shoes. Dress socks tend to be thinner and your marcher may need to wear 2 pair of socks to be comfortable.

SHORTS – Only BLACK/DARK NAVY slick low-profile athletic shorts are allowed underneath the marching bibs.  The bibs are slim fitting and your marcher's uniform may not fit correctly if there is any extra bulk underneath.  If you have questions on this, please contact Regina Wild at lbauniforms@gmail.com

GLOVES:  Black gloves are the same as last year and are $8 each and will be sold at the first football game.

MISCELLANEOUS – No visible jewelry or nail polish is allowed in uniform, so manicures and piercings just before a performance might not be the best idea.  Marchers may want to consider bringing an extra dry fit shirt to wear over the face to protect hair and makeup.  Marchers might try to wear as little makeup as possible this year to avoid getting makeup on marching shirts.   Hairdos to contain hair in marching hats will need to be secure.  Sousaphones and front ensemble (pit) do not wear hats, and hair is not allowed to touch the collar of the uniform.  Please make arrangements for a haircut if necessary.  MAKE SURE YOUR MARCHER HAS AND WEARS DEODORANT.
Last Week for Discount Cards

 

ALL MONEY AND UNSOLD DISCOUNT CARDS DUE FRIDAY!
Each family is asked to sell 15 cards or provide an "opt-out" donation of $75. The Discount Card is sold for $10 and provides year-long savings and BOGO offers at merchants throughout Lexington. All money and unsold cards should be turned in by this FRIDAY, AUGUST 17. Please turn in all money and unsold cards to Melena Dailey in the Parking Lot at the following times this week (look for the Discount Card sign and balloon):

-Monday: 5:30-6:00 and 8:30-9:00
-Tuesday: 5:30-6:00 and 8:00-8:30
-Thursday: 5:45-6:15
-Friday: 5:30-6:00

DO NOT give to the Band Directors!
DO NOT leave in the box in the band room!
DO NOT give to anyone except Melena Dailey at the above times in the parking lot!

Incentives for top sellers are $50 cash and 2 Cinemark movie passes for 1st place, $25 cash and 1 Cinemark movie pass for 2nd place, and $15 cash and 1 Cinemark movie pass for 3rd place. Section incentive: Return of the wildly popular "Pie in the Face" – a chance of a lifetime for the section selling the highest percentage of cards to throw pies at the band directors.

The goal for this fundraiser is $20,000. We need everyone's participation! For questions, contact Melena Dailey at LBAfundraising1@gmail.com or 859-619-4776.

Discount Cards are valid until July 31, 2019!
Student Spotlights and Business Ads

 

Lafayette Invitational Sponsored by Asbury University

All Spotlights and Ads due by August 20
Lafayette Band is hosting the 3rd Annual Invitational on Saturday, September 15. There will be 12 bands from across Kentucky here on the Lafayette campus. An important part of the event is the Invitational Program that will be sold to band fans. The program will keep you informed of the events of the day and is also a great keepsake

STUDENT SPOTLIGHTS in the printed program!
Let your Band or Guard student know how proud you are by purchasing a Student Spotlight in the printed program! You can even feature a whole section or group of friends. Share an encouraging word, a fun photo, or both to Spotlight your favorite student(s)! A variety of size and pricing options are available. Place your online order for a Student Spotlight. All orders and payment must be received by August 20th.

BUSINESS ADVERTISEMENTS in the printed program
Our official printed program is a featured item of the invitational experience! Over 3,000 people participated in the event last year! Don't miss out on this great advertising opportunity for your business or ask your favorite business to buy an advertisement and support the band! A variety of size and pricing options are available. Download the form to order a Business Ad.
Kroger Cards

 

The easiest fundraiser we have! We made $5,000 last year from Kroger Cards! Remember to register your Kroger Card online at www.krogercommunityrewards.com. Enter the NPO number or select Lafayette Band.  Lafayette Band NPO Number is 10043. Simply swipe your Kroger card every time you make a purchase and you will earn money for Lafayette Band!
Amazon Smile

 

AmazonSmile is the same Amazon you know and love. Same products, same prices, same service. Support Lafayette Band by starting your shopping at smile.amazon.com every time you make a purchase from your computer or smartphone. Amazon will donate 0.5% of the price of your eligible AmazonSmile purchases to Lafayette Band. Just go to smile.amazon.com to get started!
Mattress Sale Results

 

We made $3,000 from last Sunday's mattress sale with almost 30 mattresses sold. The budgeted goal was $4,000, so we fell just shy of what we needed. The key to mattress sale success is personal referrals. Just imagine how much money we could make if everyone just found ONE person in the market for a mattress set! Mark your calendars – we will be doing the Mattress Fundraiser next year on Sunday, August 25, 2019. This is over one year from today – start talking to family friends and neighbors so that we can blow this out of the water next year! Here are the STATS from this year's sale. 19 students will receive custom jackets with the band logo and 5 will receive cash! Thanks to all those students and parents who helped out!
Save the Date:  Popcorn, Cheese, Sausage, and Chocolates

 

Thursday, August 23 Kick-Off. Gourmet popcorn from Lexington's Popcorn Paradise, several varieties of scrumptious cheese and sausage, and delectable chocolates! Get ready!!!
Band Photography

 

Photos from Shellshots Photography can be viewed and downloaded for free from the Lafayette Band website. Go to Lafayetteband.org and select "Photo Gallery" located in the blue banner across the top of the home page, or click http://www.lafayetteband.org/photo-gallery/
Water Donations Needed

 

Donate 8 oz.Water for Fall Marching Season.

We need cases of 8 oz. water bottles donated for this fall's marching season. The small 8 oz size is the perfect size for students to drink on the go. Your donation will keep the students hydrated before and after games and when they travel to the various contests throughout the season. Please bring your case of water to the white tent at drop off during band camp.

Thank you in advance for your donation!
Family Payments:  2018-19 Family Band Payments have been Billed

 

Payments may be made by cash, check, money order or credit card.  Checks and money orders should be made payable to "LBA" (please note student name) and mailed to:

Lafayette Band Association
P.O. Box 910450
Lexington, KY  40591

Credit Card payments via Paypal are accepted on Charms.  To log into your Charms account, go to www.charmsoffice.com, the school code is lhsband (case sensitive).

Any questions please contact LBA Charms Accounts at lbacharms@gmail.com.

It takes tremendous financial resources to keep The Pride of the Bluegrass at championship level on the field and in the concert hall.  We thank each family for adhering to their payment schedule.

If your student qualifies for the Free/Reduced Lunch Program, please supply a copy of the Notice of Approval received from the Child Nutrition Office.  LBA must receive this notification each year.
To-Do List from Your Chaperone Team

 

Now is the time to plan ahead and complete all your medical forms for the upcoming marching season.

1.       Complete the LBA Medical Authorization Form and mail it to the address on the bottom of the form. You must submit this form BEFORE band camp, so we can properly treat your child if a medical condition arises. (If you have already turned in your form – Thank You!)

2.       Make an appointment with your child's physician for a physical. Have the physician complete and sign a KHSAA Physical Form AND the LBA Over the Counter Medical Authorization Form if you so desire. These forms do NOT need to be completed and returned prior to band camp. You will need to bring in blank forms for the physician to complete and sign.

You can find all LBA forms on http://www.lafayetteband.org/marching-season-forms/ and you can find the KHSAA form at https://khsaa.org/forms/ge04.pdf

If you have any questions, contact the chaperone team lafayettechaperone@gmail.com
Important Medical Information

 

STUDENTS CANNOT PARTICIPATE IN MARCHING BAND UNLESS THE PROPER MEDICAL DOCUMENTATION IS COMPLETED AND SUBMITTED.

Medical Authorization Form

The LBA Medical Authorization Form can be printed off the forms section on www.lafayetteband.org and then mailed to the address at the bottom of the form. If you prefer to save postage, forms can be turned in at the following:

·         Band Camp Student Drop-off

The Chaperone Team Must Monitor the Administration of All Over-The-Counter and Prescription Medications

Over-The-Counter (OTC) Medications

LBA's medical form procedures have been updated to match the Fayette County School policy.  The OTC Medical form must be signed by a physician and a parent in order for the chaperone team to administer any OTC medication you approve on the form. We cannot take verbal medication approval over the phone if you have not designated an OTC medication or if there is no physician signature on the student's form.

Prescription Medications

The chaperone crew must monitor the administration of all prescription medications. Drop off all prescription medications that your child may need during practice in their original containers to a medical team representative in the student parking lot when you drop your child off for practice.

If you have any questions you may contact the Chaperone Crew @ lafayettechaperone@gmail.com


Band Store

 

The Lafayette Band store presents an ongoing fundraiser via TeePublic.

You can order instrument-specific swag (t-shirts, mugs, notebooks) for your favorite bandie. The gear isn't specific to Lafayette, so I'm sure you will find something for your favorite musician.

Orders will be shipped directly to you!

Did you miss out on the pre-season shirt pre-orders? The price is higher, but the design is available via our TeePublic store.

https://www.teepublic.com/stores/lafayette-band-store?ref_id=6497


Tentative Fall 2018 Marching Schedule

 

Contests
Sep-8 – Bourbon County, Bourbon Country High School
Sep-15 – Lafayette Invitational Band Contest
Sep-22 – Ryle Tournament of Bands – Larry A. Ryle High School, Union Kentucky
Oct-13 – Commodore Classic – Tates Creek High School
Oct-20 – KMEA Quarterfinals
Oct-27 – KMEA Semifinals and Finals – University of Kentucky Kroger Field

Football Games
Aug-31 – Lexington Catholic
Sep-14 – Moeller
Sep-21 – Henry Clay
Oct-12 – Madison Central
Oct-19 – Tates Creek


Join Us for BINGO

 

Please sign-up to work a Bingo session!  Email LafayetteBandBingo@gmail.com to let Dan know what shift you're available.  This is the biggest fundraiser for the band.  Bingo is held every Tuesday night throughout the entire year.

Jackpot Bingo Games – Eastland Shopping Center


Join Our Facebook Group

 

Join the "Lafayette Band Association – Pride of the Bluegrass" Facebook group to keep up with what is happening with the band! The group shares news, pictures, upcoming events, motivation and more. https://www.facebook.com/groups/1189436287833718


 "REMIND" System to Communicate Information

 

The Lafayette Band uses the "Remind" system to communicate important information to students and families.  The students have been encouraged to join the appropriate "remind" groups to receive updates, schedule changes, and reminders from the band directors.  Families are welcome to join.

Text the following codes to 859-519-8446:
@lafayetteb  (for all band students)
@lhswinds  (for Wind Symphony)
@62d72  (for Symphonic Band)
@lhsconcer  (for Concert Band)