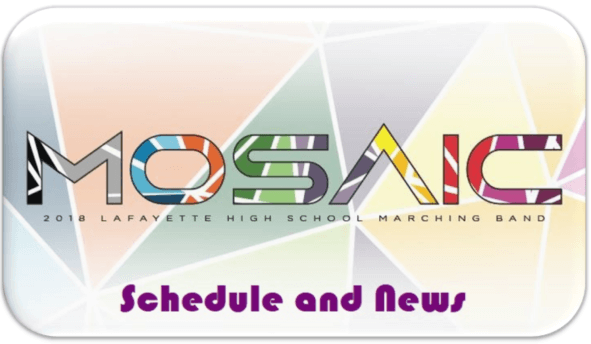 For the week of July 29th
It's Band Camp Week for all Marchers!
Download Latest Band Camp Itinerary
GMail Users – You may need to click "View entire message" to see all content.


MON

Students meet in band room

8:00am

Band Room

Rehearsal (outside)

8:20am

Band Lot

Lunch (brown bag or lunch order)

12:00pm

Winds, guard, and percussion sectionals

1:00pm

Winds full rehearsal

2:15pm

End of afternoon rehearsal

5:00pm

Students resume rehearsal

6:30pm

Restaurant Night – Chick-fil-A

5:00pm – 8:00pm

Turfland

LBA Parent Meeting

6:30pm – 8:30pm

Cafeteria

End of Day

9:00pm

TUES

Rehearsal

8:00am

Lunch (brown bag or food order)

12:00pm

Winds, guard, and percussion sectionals

1:00pm

Winds in full rehearsal

2:15pm

Dinner (on your own)

5:00pm

Full rehearsal

6:30pm

End of day

9:00pm

Restaurant Fundraiser – Moe's

All Day

Harrodsburg Rd

Bingo – Pull Tab Help Needed
Percussion section parent pull-tab night

6:00pm – 10:00pm

WED

Rehearsal

8:00pm

Lunch (brown bag or food order)

12:00pm

Winds, guard, and percussion sectionals

1:00pm

Winds in full rehearsal

2:15pm

End of day

5:00pm

THURS

Rehearsal

8:00am

Lunch (brown bag or food order)

12:00pm

Wind, guard, and percussion sections

1:00pm

Winds in full rehearsal

2:15pm

End of day

5:00pm

FRI

Rehearsal

8:00pm

Lunch (provided)

12:00pm

Winds, guard, and percussion sectionals

1:00pm

Winds in full rehearsal

2:15pm

End of day

5:00pm

SAT
Calendar Notes

Band Camp – Bring water jugs, three-ring binder with protective sheets, sunscreen, tennis shoes and socks. Please do not drive onto the band practice lot. Drop-off and pick-up is in the student (senior) lot.

Memory Books and DVDs – If you still need to pick-up, please contact Jane Andreatta at jkandreatta@gmail.com. They will also be available at the parent meeting Monday evening.

LBA Parent Meeting and Volunteer Expo – July 30th from 6:30pm – 8:30pm in the cafeteria.
Name badges will be ready for new LBA members

Monday, July 30th – Form and payment for optional band camp meals due (morning).
Order for extra dry fit shirts due (more below)
Discount Card kick-off

Marching Shoes – Will be ordered on Wednesday, August 1st during lunchtime (more details below)

2nd Annual Mattress Sale – Sunday, August 5th from 11am – 5:00pm

Pool Party – Thursday, August 9th from 8pm – 10pm – More details to come

Family Night 2018 – Friday, August 10th (more below)

First Day of School – Wednesday. August 15th

Wind Symphony Concert Photos – Saturday, August 18th – Details below

Dr. Tim Leadership Workshop – Monday, August 20th from 6pm – 8:30pm

Full Band Picture Day – Saturday, September 1st
Parent Meeting and Volunteer Expo

Please join the LBA for our Kick-Off Parent Meeting on Monday 7/30 at 6:30pm. Learn about this year's exciting marching production "Mosaic". Meet and learn more about our extraordinary crews – you will also have opportunities to sign up to volunteer with our crews.

Discover our exciting fundraisers for the year; some are familiar and some all new. We will also accept payments for various fees (check or credit card only please) after the meeting.

2017 State Championship patches will be available for pick-up during the meeting as well.

2017 Memory Books and DVDs will be available for pick-up. See Jane Andreatta.
Eat at Chick-fil-A and Support the Band

Your dinner plans have been made for Monday, July 30th! Join us a Chick-fil-a on Harrodsburg Road from 5:00p.m. – 8:00p.m.

Parents, grab a bite before the Parent Meeting!
Students, come to Chick-fil-a on the dinner break!

Be sure to show the attached flyer and/or tell the cashier you want to support the Lafayette High School Band!

Invite your friends and family and share the link on Facebook! Chick-fil-a will donate a portion of sales to the band–but only if you tell them!

EAT MOR CHIKIN!





Uniform News: Supplies, Dates, Costs

Please visit the Uniform Crew table at the parent meeting on July 30th and join the Uniform Crew! We will have information about our crew and will be available to answer any questions. While you are there take care of the following items:

Dry Fit Shirts – Deadline for ordering an EXTRA dry fit shirt is this Monday, July 30, at the parent meeting. Each student will receive ONE dry fit shirt. This is the shirt that will be worn under the marching uniform this year. Cost is $10 for an extra shirt. (Order form)

Marching Shoes – If your student needs marching shoes the orders will be placed on Wednesday, August 1st in the cafeteria at lunch time. A check will need to be sent with your student that day made out to RRR Band Accessories, $28 for band members, $30 for guard members. See attached flyer.

Marching Tops – Each family will need to pay for a marching uniform top, cost is $65.

Optional Red Bags – A sample red bag will be available. This is your marcher's 'band suitcase'. It is very nice and handy to purchase the optional red bag; however, if you do not wish to do so, a free (smaller, non-personalized) red bag will be issued to your marcher. Cost is $30. See attached flyer/order form.

All costs at the July 30th parent meeting are payable to LBA and can be paid by check or credit card. Any questions please contact Regina Wild at lbauniforms@gmail.com.

Wind Symphony Concert Photos on Saturday, August 18
9:00am Arrive and dress
9:30am Group photos
10:45am Undress
11:00am Finish

Students will need to bring their black shoes, black socks, shorts, and dark t-shirt of any type to wear underneath the pants and concert jacket. No visible jewelry should be worn and hair should be camera ready.

Full Band – Picture Day September 1st
**Please mark your calendar for this day, more details to come.
Mattress Sale Next Sunday, August 5th

When: Sunday, August 5
Time: 11am – 5pm
Place: Lafayette Cafeteria

The link to the event on Facebook is bit.ly/LafayetteHS2018

For more information, see the PARENT LETTER. Print the REFERRAL FLYER and share!
The cafeteria at Lafayette will be transformed into a mattress showroom with name-brand mattresses of all styles and sizes for purchase. Delivery and payment plans available. For every bed sold, an average of $100 will be donated to the Lafayette Band by the mattress company. Spread the word! Tell your neighbors and friends – success of this fundraiser is personal referrals. We want to sell 100 mattresses next Sunday!

STUDENT HELP NEEDED AT MATTRESS SALE
We need students on Sunday, August 5 to help with set-up, advertising (holding signs and wearing mattress costumes), and break-down. Please sign up HERE.





Discount Cards Kick-Off Monday, July 30th

This is the best Lafayette Discount Card yet! A perennial community favorite, the annual Discount Card Fundraiser starts July 30! Each family is asked to sell at least 15 cards or provide an "opt-out" donation of $75. The Discount Card is sold for $10 and provides year-long savings and BOGO offers at merchants throughout Lexington. Discount Card distribution will take place after the Kick-Off Meeting on July 30 in the cafeteria. Please make every effort to pick up your cards at this time. Additional distribution and collection dates this week will be:

Tuesday, July 31: 8:30pm – 9:00pm
Friday, August 3: 4:30pm – 5:00pm

Look for the vehicle in the drop-off parking lot with a balloon and "Discount Card" sign.

Incentives for top sellers are $50 cash and 2 Cinemark movie passes for 1st place, $25 cash and 1 Cinemark movie pass for 2nd place, and $15 cash and 1 Cinemark movie pass for 3rd place. Section incentive: Return of the wildly popular "Pie in the Face" – a chance of a lifetime for the section selling the highest percentage of cards to throw pies at the band directors.

The goal for this fundraiser is $20,000. We need everyone's participation! All money and unsold tickets should be turned in by August 17. Watch the e-News for more specific collection dates and times. For questions, contact Melena or John Dailey at LBAFundraising1@gmail.com.




Discount Cards are valid until July 31, 2019!
Restaurant Fundraisers on Monday and Tuesday this Week

Wondering where to grab dinner before the evening Band Camp practices? Make plans now to join us at these restaurants and help support the band while you eat!

Monday, July 30th from 5-8pm: Chick-fil-a on Harrodsburg Road – tell cashier
Tuesday, July 31s (all day): Moe's (new location at 1975 Harrodsburg Road) – tell cashier
Monday, August 6th (all day): City Barbeque on Harrodsburg Road – tell cashier
Tuesday, August 7th (all day): Zaxby's on South Broadway (drop your receipt in the designated place)

Save the dates for these future Restaurant Fundraisers:
Wednesday, September 19th: Chipotle
Monday, October 22nd: Gatti-Town–Kick Off to State!
Student Spotlights and Business Ads

Lafayette Invitational Sponsored by Asbury University

Lafayette Band is hosting the 3rd Annual Invitational on Saturday, September 15. There will be 12 bands from across Kentucky here on the Lafayette campus. An important part of the event is the Invitational Program that will be sold to band fans. The program will keep you informed of the events of the day and is also a great keepsake.

STUDENT SPOTLIGHTS in the printed program!
Let your Band or Guard student know how proud you are by purchasing a Student Spotlight in the printed program! You can even feature a whole section or group of friends. Share an encouraging word, a fun photo, or both to Spotlight your favorite student(s)! A variety of size and pricing options are available. Place your online order for a Student Spotlight. All orders and payment must be received by August 20th.

BUSINESS ADVERTISEMENTS in the printed program
Our official printed program is a featured item of the invitational experience! Over 3,000 people participated in the event last year! Don't miss out on this great advertising opportunity for your business, or ask your favorite business to buy an advertisement and support the band! A variety of size and pricing options are available. Use the online form to order a Business Ad.
| | |
| --- | --- |
| ↓ Band Camp Information Below ↓ | |
Band Camp 2018

During all camp dates, please drop-off and pick-up only in the senior-lot.

Bring water jugs, three-ring binder with protective sheets, sunscreen, tennis shoes and socks.


Color Guard Summer Training

Summer Training 2018 and Band Camp

| | |
| --- | --- |
| July 30 – August 3 | 8am – 5pm |
| August 6 – 10 | 8am – 5pm |

Rehearsals on July 30 and 31, August 6 and 7 are also 6:30pm – 9:00pm
Band Camp details will be posted soon.
Lunches During Band Camp

You can bring your own lunch to band camp every day. Drinks are provided.

If you want to purchase meals, see the menu in the link below and choose the meal(s) for your student for the 2 weeks of Band Camp.

Each meal ordered is $5 (exact change, please), the orders and amount due for all band camp lunches is due on Monday morning, 7/30, during drop off in the student parking lot from 7:30-8am. Link to the Form: Summer Band Camp Lunch orders.

Cash or Checks made payable to LBA (and write your student's name to make processing easier)

Cookies and Gatorade/Water are provided every day.

Both Fridays (8/3 and 8/10) of Band camp, LBA will provide lunch (Papa John's Pizza).

Thank you!

If your student has any food allergies or restrictions, please send an email to lbafoodcrew@gmail.com to report them.

If you have any questions, please contact the Food Crew lbafoodcrew@gmail.com


Food Crew Band Camp Sign-up

Summer Band Camp

Welcome to the LBA Food Crew! We appreciate your help supporting our hard-working band & color guard members & staff!

We will be serving box lunches that are ordered by the students, or they can bring their own lunch. We will be providing Gatorade and water to drink (on those long hot practice days). We will also be serving cookies & brownies to everyone.

The 2nd week we will be serving Middle School Band Camp Tues- Fri before we serve our HS band.

On both Fridays, LBA provides lunch – Pizza.

Please choose a date/dates that work for your schedule. (Link to Sign-up form)

If you have any questions you may email lbafoodcrew@gmail.com

*When you sign up if you are arriving at a later time or need to leave early, please specify in the comments.
Water Donations Needed

Donate 8 oz.Water for Fall Marching Season.

We need cases of 8 oz. water bottles donated for this fall's marching season. The small 8 oz size is the perfect size for students to drink on the go. Your donation will keep the students hydrated before and after games and when they travel to the various contests throughout the season. Please bring your case of water to the white tent at drop off during band camp.

Thank you in advance for your donation!
End of Band Camp Family Performance

Band Performance, Dinner, & Shopping on Friday, August 10

Bring your lawn chairs and blankets and join Lafayette parents, families and alumni for a wonderful "End of Band Camp" dinner and Family Performance at the Lafayette High School stadium.

Register online for the dinner (registration open soon)

Date: Friday, August 10
Time: Band Students eat free beginning at 5:00pm
Families eat from 5:30pm – 6:30pm "tailgate style" by the stadium
Band Performance at 7:00
Place: Lafayette High School stadium
Cost: $8 for adults and $4 for children 10 and under

During the evening, you will also have the opportunity to shop at the Band Store! Please make plans to attend – you won't want to miss this very special event!!!
Personal Cooler/Thermos Water Jugs

The chaperone crew always has ice water available at every practice. Every season we go through thousands of Styrofoam cups while students stand in long lines at the water jugs. We recommend that each student bring a filled cooler/thermos jug to practice. The chaperone crew will re-fill the student's jug after their break. There are a few stipulations:

1. The student's name must be clearly marked on the jug.

2. Make your jug unique so you can easily pick it out.

3. The jug must be left next to the chaperone area if the student wants it re-filled after breaks.

4. All jugs must be picked up after each practice or the jug may be thrown away.


Hydration and Nutrition Information

In order to get the most out of your Band Camp experience, it's important to be prepared. Listed here are some ways to make sure that you stay in tip-top shape during Band Camp.

Fluid Intake: WATER, WATER, WATER

Drink 16 ounces of water BEFORE you come to rehearsal in the morning.

Each evening, after rehearsals, drink 16 to 32 ounces of water.

It is essential that you stay hydrated. Guys will sweat, girls will glisten during Band Camp. It's hot on the pavement, sometimes REALLY hot. We are outside, it is summer and this is Kentucky! AVOID CAFFEINE (save the Red Bull for Band trips) or carbonated beverages with caffeine. Also stay away from sugar-loaded drinks (i.e., Kool-Aid or juice). They will dehydrate you. Water is best; Gatorade or other sports drinks are okay. BUT, drink them in addition to water!

Nutrition: Everyone MUST eat breakfast, lunch and dinner every day.

Please eat a healthy meal before you come every day. Contrary to what you may think, food on your stomach will not sit like a lump while you are marching. Your body needs fuel to perform at the level necessary for Band Camp. Avoid all caffeine, greasy foods, carbonated drinks with caffeine, excessive candy or sweets, and dairy foods.

Summer Conditions:

· Wear sunscreen with SPF 30 or higher. Bring your sunscreen with you to re-apply during breaks.

· Wear a hat: baseball cap preferred

· Wear light colored clothing.

· Always wear socks and tennis shoes (no sandals or flip-flops).

· Expect high temperatures and humidity! Many hours are spent on the asphalt!
| | |
| --- | --- |
| ↑ Band Camp Information Above ↑ | |
Family Payments: 2018-19 Family Band Payments have been Billed

Payments may be made by cash, check, money order or credit card. Checks and money orders should be made payable to "LBA" (please note student name) and mailed to:

Lafayette Band Association
P.O. Box 910450
Lexington, KY 40591

Credit Card payments via Paypal are accepted on Charms. To log into your Charms account, go to www.charmsoffice.com, the school code is lhsband (case sensitive).

Any questions please contact LBA Charms Accounts at lbacharms@gmail.com.

It takes tremendous financial resources to keep The Pride of the Bluegrass at championship level on the field and in the concert hall. We thank each family for adhering to their payment schedule.

If your student qualifies for the Free/Reduced Lunch Program, please supply a copy of the Notice of Approval received from the Child Nutrition Office. LBA must receive this notification each year.
To-Do List from Your Chaperone Team

Now is the time to plan ahead and complete all your medical forms for the upcoming marching season.

1. Complete the LBA Medical Authorization Form and mail it to the address on the bottom of the form. You must submit this form BEFORE band camp, so we can properly treat your child if a medical condition arises. (If you have already turned in your form – Thank You!)

2. Make an appointment with your child's physician for a physical. Have the physician complete and sign a KHSAA Physical Form AND the LBA Over the Counter Medical Authorization Form if you so desire. These forms do NOT need to be completed and returned prior to band camp. You will need to bring in blank forms for the physician to complete and sign.

You can find all LBA forms on http://www.lafayetteband.org/marching-season-forms/ and you can find the KHSAA form at https://khsaa.org/forms/ge04.pdf

If you have any questions, contact the chaperone team lafayettechaperone@gmail.com
Important Medical Information

STUDENTS CANNOT PARTICIPATE IN MARCHING BAND UNLESS THE PROPER MEDICAL DOCUMENTATION IS COMPLETED AND SUBMITTED.

Medical Authorization Form

The LBA Medical Authorization Form can be printed off the forms section on www.lafayetteband.org and then mailed to the address at the bottom of the form. If you prefer to save postage, forms can be turned in at the following:

· Band Camp Student Drop-off

The Chaperone Team Must Monitor the Administration of All Over-The-Counter and Prescription Medications

Over-The-Counter (OTC) Medications

LBA's medical form procedures have been updated to match the Fayette County School policy. The OTC Medical form must be signed by a physician and a parent in order for the chaperone team to administer any OTC medication you approve on the form. We cannot take verbal medication approval over the phone if you have not designated an OTC medication or if there is no physician signature on the student's form.

Prescription Medications

The chaperone crew must monitor the administration of all prescription medications. Drop off all prescription medications that your child may need during practice in their original containers to a medical team representative in the student parking lot when you drop your child off for practice.

If you have any questions you may contact the Chaperone Crew @ lafayettechaperone@gmail.com


Band Store

The Lafayette Band store presents an ongoing fundraiser via TeePublic.

You can order instrument-specific swag (t-shirts, mugs, notebooks) for your favorite bandie. The gear isn't specific to Lafayette, so I'm sure you will find something for your favorite musician.

Orders will be shipped directly to you!

https://www.teepublic.com/stores/lafayette-band-store?ref_id=6497


Tentative Fall 2018 Marching Schedule

Contests
Sep-8 – Bourbon County, Bourbon Country High School
Sep-15 – Lafayette Invitational Band Contest
Sep-22 – Ryle Tournament of Bands – Larry A. Ryle High School, Union Kentucky
Oct-13 – Commodore Classic – Tates Creek High School
Oct-20 – KMEA Quarterfinals
Oct-27 – KMEA Semifinals and Finals – University of Kentucky Kroger Field

Football Games
Aug-31 – Lexington Catholic
Sep-14 – Moeller
Sep-21 – Henry Clay
Oct-12 – Madison Central
Oct-19 – Tates Creek


Join Us for BINGO

Please sign-up to work a Bingo session! Email LafayetteBandBingo@gmail.com to let Dan know what shift you're available. This is the biggest fundraiser for the band. Bingo is held every Tuesday night throughout the entire year.

Jackpot Bingo Games – Eastland Shopping Center


Join Our Facebook Group

Join the "Lafayette Band Association – Pride of the Bluegrass" Facebook group to keep up with what is happening with the band! The group shares news, pictures, upcoming events, motivation and more. https://www.facebook.com/groups/1189436287833718


"REMIND" System to Communicate Information

The Lafayette Band uses the "Remind" system to communicate important information to students and families. The students have been encouraged to join the appropriate "remind" groups to receive updates, schedule changes, and reminders from the band directors. Families are welcome to join.

Text the following codes to 859-519-8446:
@lafayetteb (for all band students)
@lhswinds (for Wind Symphony)
@62d72 (for Symphonic Band)
@lhsconcer (for Concert Band)