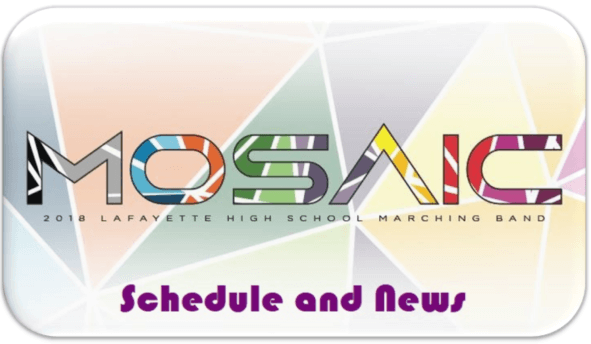 For the week of October 21st   
It's State Championship Week!  Come to Kroger Field and CHEER for the band!
Congratulations to the Lafayette Band for a great Quarterfinals performance!


| | | | |
| --- | --- | --- | --- |
| MON | Full Rehearsal | 3:45pm – 6:15pm |   |
|   | Band Store Open | During Pick-up | Parking Lot |
|   | Restaurant Night at Gattitown | 6:00pm – 9:00pm | Gattitown |
| TUES | Jazz Ensemble – Rhythm Section | 7:30am – 8:30am |   |
|   | Full Rehearsal | 3:45pm – 6:15pm |   |
|   | Band Store Open | During Pick-up | Parking Lot |
|   | Bingo – Saxophone Parent Pull-tab Night | 6:00pm – 10:00pm | |
| WED | Full Rehearsal | 3:45pm – 6:15pm |   |
| THURS | Jazz Ensemble Rehearsal | 7:30am – 8:30am |   |
|   | Full Rehearsal | 3:45pm – 7:00pm |   |
| FRI | Full Rehearsal | 3:45pm – 6:15pm |   |
|   | Prayer Around the Flagpole | 5:15pm | SCAPA Entrance |
|   | Final Run | 5:45pm | Stadium |
|   | Band Store Open | During Pick-up | Parking Lot |
| SAT | KMEA Semi Finals and Finals | Itinerary TBA Soon | |
Calendar Notes

 

No Fall M2 Lessons This Week – Schedule resumes on October 30th.

Restaurant Night at Gattitown – Monday, October 22nd from 6:00pm to 9:00pm.

Final Run and Signs of Encouragement – Friday, October 26th – More information below

KMEA State Semi-Finals and Finals – Saturday, October 27th at UK Kroger Field.

End of Marching Season Party – Saturday 11/3 from 7:00 to 10:00 in the cafeteria. More details to come.

Chamber Groups – Starting November 5th.  See calendar for dates and times for each group.

District 7 All-State Band Audition – Thursday, November 15th and Henry Clay

Parade Practice – Friday, November 30th from 3:45pm – 5:00pm

All-State Jazz Audition – Saturday, December 1st in Louisville

Band Camp Dates 2019
July 22-26, 2019   Freshmen, Color Guard, Percussion
July 29-August 2, 2019 Band Camp
August 5-9, 2019   Band Camp
State Tickets

 

Pick Up State tickets from Cathy Concors this week. In the senior lot during pick up times every day this week.

To order tickets for State, please contact KMEA directly. Link for information
https://kmea.org/kmea-marching-band-information/#tickets

Advance phone ticket orders will end Wednesday, October 24, 2018 at 4:30 PM EDT.
General admission tickets to Semifinals are $13.00, available in advance or onsite.
All Finals tickets are Reserved Seating, available in advance, or onsite at Kroger Field starting at 10:00 am Saturday, October 27.

$15 — Finals Reserved (Sections 24, 28, 224, 228,229)
$20 — Finals Preferred (Sections 225, 226, 227)
$25 — Finals Premium (Sections 25, 26, 27)

Tickets purchased at Kroger Field on 10/27 (Semis and Finals) are CASH ONLY.
Photo Buttons

For new band parents, you may have seen photo buttons being worn on lanyards. It's a great way to support your band student and LBA. Lanyards on sale at the Band Store.

This year, Photo Buttons are being done by the LBA. Each 3.5 inch Photo Button is $8.

You can choose your photo from the online Lafayette Band pictures at www.shellshots.smugmug.com. Choose the "Lafayette" menu at the top and password is "beautiful".  Each photo has a 4-digit number next to the student's name.

Payment must be made online via Paypal.

If you would like to receive your button by Friday, please submit your order no later than Tuesday. Button orders placed after Tuesday 10/23 may not be finished in time to pick up this week.

Questions? Email gwwraw3809@gmail.com 
Fundraiser Money Collection

 

ALL MONEY IS PAST DUE!  There is still $5500 not collected. 33 students have not turned in money. YOU MUST TURN IN THIS WEEK. To ensure your money is received and credited correctly, please make sure your money is returned in an envelope with your name clearly marked on it. Checks should be made payable to "LBA". Questions? Email LBAfundraising1@gmail.com . Please only give payment to Melena Dailey at the times and locations listed below:

| | | |
| --- | --- | --- |
| Monday, 10/22 | Gattitown |   |
| Tuesday, 10/23 | Bingo |   |
| Wednesday, 10/24 | 6:15pm – Parking lot | Vehicle with balloon |
| Friday, 10/26 | Band store | Before Final-Run |

–
"Kick Off to State" Monday at Gattitown

All band students and families are invited to Gattitown on Monday, October 22 after rehearsal ends at 6:15 for "Kick-Off to State". We have reserved the largest room at Gattitown and will watch the Quarterfinals performance while enjoying the salad, pasta, and pizza buffet. Regular buffet prices apply and Gattitown will be giving back 20% of food and game room sales to the Band. Don't miss this special night as Lafayette Band takes over Gattitown to begin the journey to State Finals! Download information flyer.
Final Run-Through Events

 

FINAL RUN-THROUGH WITH ENCOURAGEMENT SIGNS
All parents, families, and friends are invited to the Final Run-Through Friday at 5:45pm. An annual tradition, we will line the perimeter of the practice lot (or football field) during the final run-through holding signs and posters of encouragement–make them as fancy or simple as you like! Let's show the students how proud we are of all they have accomplished this year!

PRAYER AROUND THE FLAG POLE
The annual Prayer-Around-the-Flag-Pole will be Friday at 5:15pm.  Parents and family members are invited to pray for each band member, staff, section, and circumstance.  Pat Kirkhope will lead the prayer this year.  We will meet at the flagpole in front of the SCAPA building and will finish in time to watch the final-run at practice.  This activity is not sanctioned by the LBA and is optional.
Medications for State

 

If your child needs to take prescription or over-the-counter medication that we do not already have physician's signature for during the day on Saturday, you will need to complete and turn in the FCPS "Medication Authorization Form" found here:  https://www.fcps.net/cms/lib/KY01807169/Centricity/Domain/2295/meds_ok.pdf  

On Saturday morning, turn in the completed form along with the medication needed for that day only in its original container to any chaperone at the blue building next to the practice field.

Please note that over-the-counter medications must be accompanied by a physician's signature on the FCPS form noted above.  If a physician has already signed the LBA Medical Form then you do are not required to submit an additional form for OTC medications you initiated on the LBA Form.

If you have any questions you may contact Sherri McPherson (lafayettechaperone@gmail.com).
Uniform Crew News

 

Parents and Students — Review These Instructions Carefully:

Bring money for gloves if needed:  $8.00

Have your black band camp shirt to wear under your uniform

Wear long black socks – plain, no stripes! (It's good just to keep an extra pair of socks in your bag)

Bring clean black marching shoes

Bring the black shorts, deodorant, hand towel, wipes for your red bag

Bring all necessary items for hair:  brush/comb, hair ties, hair gel, bobby pins, hairnet, hairspray

No visible jewelry when in uniform, please remove jewelry or cover piercings

If there is a problem with your uniform, see a member of the uniform team

We always appear in public dressed in full uniform unless Mr. Smith or Mr. Bishop have informed the students otherwise.
Food Crew News

 

We cannot express how thankful we are for all who have helped with Food Crew! We simply could not do this without you! Below you will find 2 opportunities to help as our season wraps up. AND, if you have never worked with us before, please consider signing up. We love newcomers and have a great time with the kids and each other.

Cupcake Drop-Off:

You can drop cupcakes off Saturday morning (half hour before drop-off until drop-off)

STATE Championship: It hard to believe this is right around the corner. Please sign up to help on this great day.
https://www.signupgenius.com/go/60B0448AAA62AABFB6-state


Order Band Pictures Online

 

Pictures are now available for purchase! Go to www.shellshots.smugmug.com to order individual, sectional, and Wind Symphony pictures. Several options are available. You can download a digital copy of each picture for only $8. There are also options to order printed pictures to be mailed to you (cost varies by size and shipping starts at $3.99 for all mailed pictures). Keepsakes such as mugs, magnets, phone cases, and more are available for online purchase (shipping costs apply). To download or order printed pictures and merchandise:

1. Go to www.shellshots.smugmug.com
2. Click on "Lafayette" at the top of the page or the LHS gallery
3. Password is "beautiful"

If you have any concerns or questions, please contact Michelle Dunlap at micklepickle58@gmail.com
English Flair Interiors:  Fundraiser

 

Don't miss out on this unique opportunity to support the Lafayette Band. Band parent, Melissa Asbury, had a selection of custom painted bourbon barrel lids and staves available for purchase at the Lafayette Invitational Band Contest–I hope you had a chance to stop by and take a look! Melissa is now accepting custom orders. A portion of all sales from September 15-November 15 will be donated to the Lafayette Band! For more information and to place an order, check out her Facebook post: English Flair Interiors Lafayette Band Fundraiser These make fabulous holiday gifts–don't wait until the last minute to order!  Please share with your friends and family on social media!
Fall M2 Lessons

 

Following are the Fall 2018 M2 lesson dates.  Refer to the specific dates/times for your instrument:

| | | | |
| --- | --- | --- | --- |
| Aug. 27-30 | Sep. 17-20 | Nov. 5, 7-8 | Dec. 3, 6 |
| Sep. 4-6 | Oct. 8-11 | Nov. 12-15 | Dec. 11, 12 |
| Sep. 10-13 | Oct. 30 – Nov. 1 | Nov. 26-29 |   |

(Oct. 1 for Sep. 3; Oct.2 for Nov. 6; Nov. 19 for Oct.29)


Family Payments:  2018-19 Family Band Payments have been Billed

 

Payments may be made by cash, check, money order or credit card.  Checks and money orders should be made payable to "LBA" (please note student name) and mailed to:

Lafayette Band Association
P.O. Box 910450
Lexington, KY  40591

Credit Card payments via Paypal are accepted on Charms.  To log into your Charms account, go to www.charmsoffice.com, the school code is lhsband (case sensitive).

Any questions please contact LBA Charms Accounts at lbacharms@gmail.com.

It takes tremendous financial resources to keep The Pride of the Bluegrass at championship level on the field and in the concert hall.  We thank each family for adhering to their payment schedule.

If your student qualifies for the Free/Reduced Lunch Program, please supply a copy of the Notice of Approval received from the Child Nutrition Office.  LBA must receive this notification each year.
Band Store

 

The Lafayette Band store presents an ongoing fundraiser via TeePublic.

You can order instrument-specific swag (t-shirts, mugs, notebooks) for your favorite bandie. The gear isn't specific to Lafayette, so I'm sure you will find something for your favorite musician.

Orders will be shipped directly to you!

Did you miss out on the pre-season shirt pre-orders? The price is higher, but the design is available via our TeePublic store.

https://www.teepublic.com/stores/lafayette-band-store?ref_id=6497


Fall 2018 Marching Schedule

 

Contests
Sep-8 – Bourbon County, Bourbon Country High School
Sep-15 – Lafayette Invitational Band Contest
Sep-22 – Ryle Tournament of Bands – Larry A. Ryle High School, Union Kentucky
Oct-13 – Bourbon County – Mid-States Band Association
Oct-20 – KMEA Quarterfinals
Oct-27 – KMEA Semifinals and Finals – University of Kentucky Kroger Field

Football Games
Aug-31 – Lexington Catholic
Sep-14 – Moeller
Sep-21 – Henry Clay
Oct-12 – Madison Central
Oct-19 – Tates Creek


Join Us for BINGO

 

Please sign-up to work a Bingo session!  Email LafayetteBandBingo@gmail.com to let Dan know what shift you're available.  This is the biggest fundraiser for the band.  Bingo is held every Tuesday night throughout the entire year.

Jackpot Bingo Games – Eastland Shopping Center


Join Our Facebook Group

 

Join the "Lafayette Band Association – Pride of the Bluegrass" Facebook group to keep up with what is happening with the band! The group shares news, pictures, upcoming events, motivation and more. https://www.facebook.com/groups/1189436287833718


 "REMIND" System to Communicate Information

 

The Lafayette Band uses the "Remind" system to communicate important information to students and families.  The students have been encouraged to join the appropriate "remind" groups to receive updates, schedule changes, and reminders from the band directors.  Families are welcome to join.

Text the following codes to 859-519-8446:
@lafayetteb  (for all band students)
@lhswinds  (for Wind Symphony)
@62d72  (for Symphonic Band)
@lhsconcer  (for Concert Band)
Sponsors